June 2022
May and June are when we start seeing much more consistent temperatures, along with finally getting the rainfall we have been waiting for. The course has grown in amazingly over the last month. Thanks to the team's efforts, it is probably in the best shape we've ever seen it. So please do enjoy it out there at the moment.
The buildup to the Club Championships saw us grow out the long rough, which has been great for the visuals whilst punishing the leaked shots. However, now is the time for a little rough management, which means we need to cut it down to let regrow so that it doesn't thicken or fall over, becoming tangled and leading to more lost balls and slower golf.
This will also be sprayed to reduce the amount of clover and daisies throughout the rough which is starting to take over the grass in some areas. The main aim with the rough is to keep it thin and wispy so that it creates a challenge whilst remaining visually pleasing.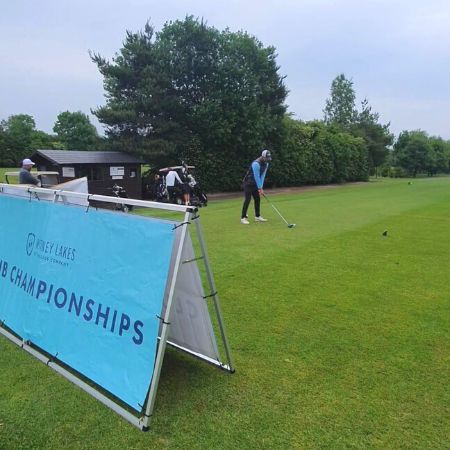 Greens
The start of the month saw us double scarify the greens which helps to reduce poa seed heads while standing the grass up and thinning them out a little. We then do a light seed with bent grass which is a continued programme we have been following for the past five years.
A light sanding is then done which will smooth and firm the surface off. This was all completed in perfect time for the weather which saw recovery within days and seed germination within 10 days.
We have been cutting greens at 3mm for a while now and have had speeds at a consistent 9 across all greens. For the recent Club Championships, we lowed to 2.5mm and double cut, which saw the greens run at 10 on the stimp.
We will do our very best to keep the greens in the shape they are for as long as possible throughout the season, and thank you all for the kind comments to myself and the team.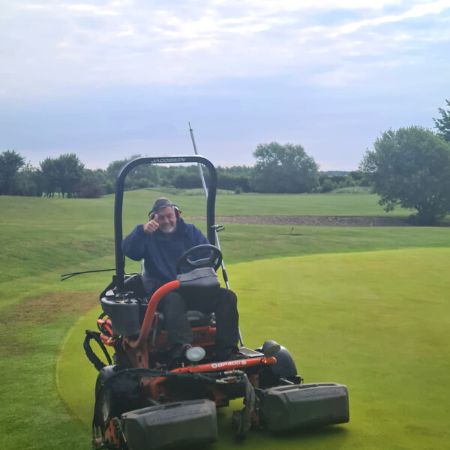 Tees, surrounds & fairways
We gave these a light fertilizer and iron to help manage growth with some selective herbicide to help kill off unwanted weeds in the swad.
Member notices
A couple of requests from the greenkeepers which will really help keep the course in the best condition possible for all to enjoy:
Please remember to repair yours and one another's pitch marks; if everyone playing the course does this there will be no pitch marks on the greens.
Please rake bunkers if you go in them and replace divots.
Thank you for your cooperation, and here's to a great summer of golf ahead.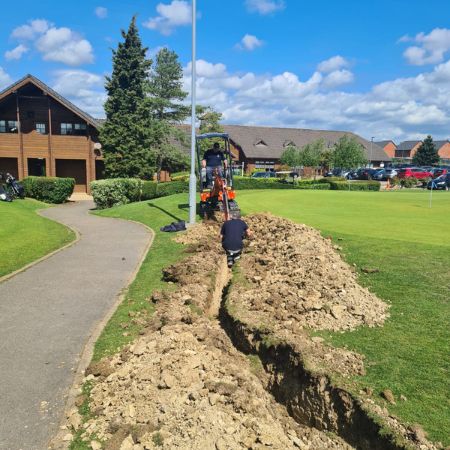 May 2022
With a good month of weather behind us we made the decision to take off winter rules from the beginning of April.
Greens are starting to dry up a little which I'm sure you have noticed, as they won't be holding as much as they were in the winter months. The reason we hold off irrigating a little is that we wait for ground temperatures to increase so that the cold water doesn't cool them off. It's also so that the roots have a chance to recover and grow down into the surface as far as possible, as too much water will allow the roots to stay shallow resulting in an unhealthy green, which is not what we what.
New flags, pins and cups have been put out on the course, so it would be great to get your feedback on them. Maintenance on greens went well, and though now fully recovered we haven't yet seeded them due to several frosty mornings last month - so now with temperatures starting to increase this will be completed.
Our new equipment is all in full action out on the course which is really helping get the course into shape. Our new apprentice Isaac has now started and is doing a great job so far - I'm sure he will be a great addition to the team in the coming months.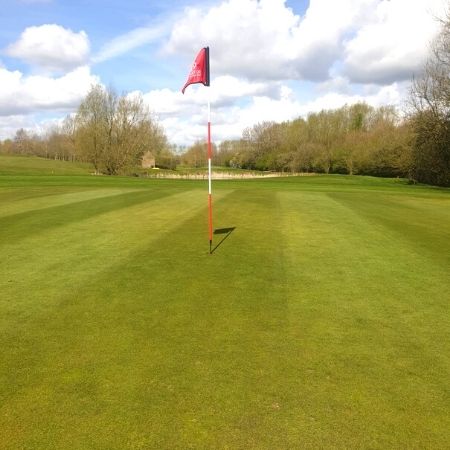 Bunkers
In terms of bunkers, now that the sand is drying out this will mean more stones will work to the top and become more visable, also allowing the sand to move/blow to different parts of bunkers with no real structure to the sand as there is no moisture in them. We are and will continue to de-stone and replace sand to the right areas of bunkers. Please do bear with us as this is an ongoing project. We also are identifying the bunkers that need topping up with sand and replacing when possible.
Member Notices
Our main aim for the month a head is to stay on top on the course conditions. May I remind all members to please help the greenkeeping team by doing the following:
Keeping trollies away from tees and greens as to prevent any excessive wear
Repair pitch marks and replace divots
Rake bunkers, leave them as you would expect to find them
Thank you for your ongoing support and I look forward to seeing you out on the course soon.
Martin and the greenkeepers